BALANCE Pure Omega 2700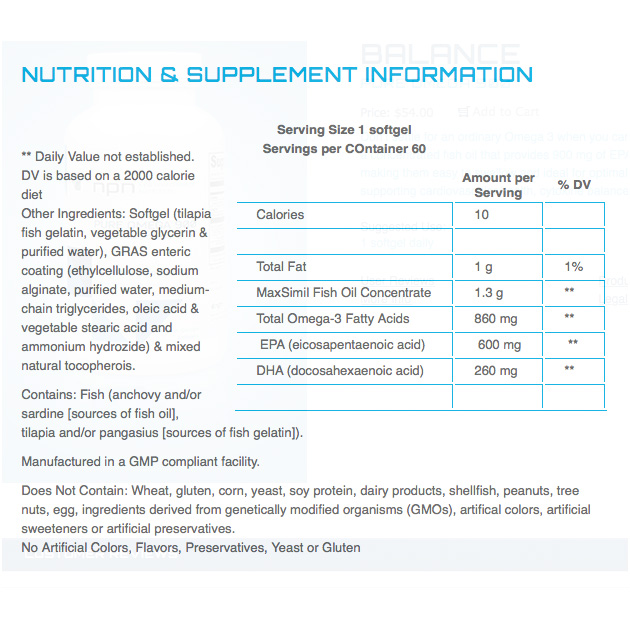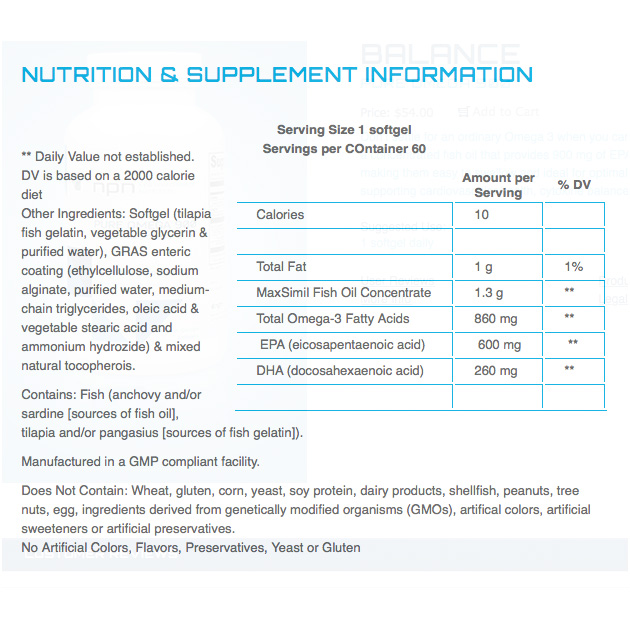 BALANCE Pure Omega 2700
Description:
Don't settle for an ordinary Omega 3 when you can have NPN's ultra Pure Omega 2700. Our Pure Omega 2700 is a concentrated fish oil that provides 2700 mg of EPA & DHA & is delivered in a small, fish-gelatin-based softgel making them easy to swallow and ideal for optimal absorption. EPA & DHA from fish oil promote wellness by supporting cardiovascular health, cytokine balance, joint health, & brain & nervous system function.
Suggested Use:
1 softgel daily
Additional Info:
Pure Omega 2700 is International Fish Oil Standards (IFOS) fivestar certified, which assures the highest level of purity, stability, and potency in fish oils. Each dose of this concentrated fish oil provides 2700 mg of EPA and DHA and is delivered in a small, fish-gelatin– based softgel. The softgels are covered with a GRAS-certified enteric coating so that they are easy to swallow and the EPA/DHA content is optimally absorbed. EPA and DHA from fish oil promote wellness by supporting cardiovascular health, cytokine balance, joint health, and brain and nervous system function.
Purity and quality are paramount when selecting fish oil supplements. This is precisely why NPN chose an Alaskan fish oil for Pure Omega 2700 that is IFOS (international fish oil standards) five-star certified. IFOS is the only third-party testing and certification program for omega-3 fish oil products; it sets the gold standard for analyzing products for comparison to the highest industry standards with regard to contaminants, stability, heavy metals, and potency. Furthermore, IFOS provides detailed results for all testing categories for each individual lot tested.
Pure Omega 2700 employs a fishgelatin—not a bovine-gelatin—softgel that is enteric-coated and GRAScertified to further guarantee quality. The enteric coating helps ensure that the fish oils reach the small intestine before being metabolized, resulting in better delivery of actives to the intestines for absorption. This delivery may also reduce the occurrence of a fishy aftertaste.
Health Benefits of EPA/DHA Research and studies have shown that omega-3 fatty acids antagonize arachidonic acid-induced eicosanoid formation; help generate resolvins and protectins to aid the body's "cleanup" response to the arachidonic acid cascade; promote neurological health and mental functioning; and promote cardiovascular health, a balanced immune response, and healthy glucose and insulin metabolism. Research suggests that it takes 2 g/day of DHA supplementation over a period of a month to saturate the plasma and three to six months of supplementation to saturate the tissues. Concentrations of DHA increased in breast milk within less than a week of supplementation.
A potent mix of essential fatty acids, which have been shown to play a beneficial role in the immune system, cardiovascular health and pain management. Omega fatty acids are polyunsaturated fats. They are healthier than saturated fats and have many metabolic functions. There are many benefits of omega3 820 supplementation. Omega 3 fatty acids prevent heart disease and the complications of heart attack. People who take omega 3 fatty acids have a lower mortality rate after heart attack than those who do not. Omega 3 EFA's improve cardiac risk factors, and help prevent CHD. They normalize lipid levels, lower blood pressure and improve glucose metabolism. Omega 6 fatty acids compete for enzymes with omega 3 EFA's, so the amounts of the two need to be properly balanced. Less research has been done on omega 6 EFA's than on omega 3's. Most omega 6 fatty acids produce an inflammatory response that may be necessary for healthy immune system function. Research is beginning to indicate that one omega 6 EFA is, however, a powerful anti-inflammatory agent, and may be even more important for healthy hearts than omega 3 oils. Omega 9, as mentioned, is not an essential fatty acid. Omega 9 oils are monounsaturated, and are found in olive oil. Olive oil is known to have beneficial health effects, and omega 9 oils may be necessary for healthy immune system functioning. The benefits of omega 3 6 9 include all of the benefits of all three types of fatty acid. The amounts and ratios of each fatty acid are balanced to optimal levels of each. Taking an omega3 820 supplement is a good way to ensure that you are getting essential nutrients for your good health. Pure EPA is a fantastic balance of omega3 820 !