DRIPDROP Hydration Powder - Lemon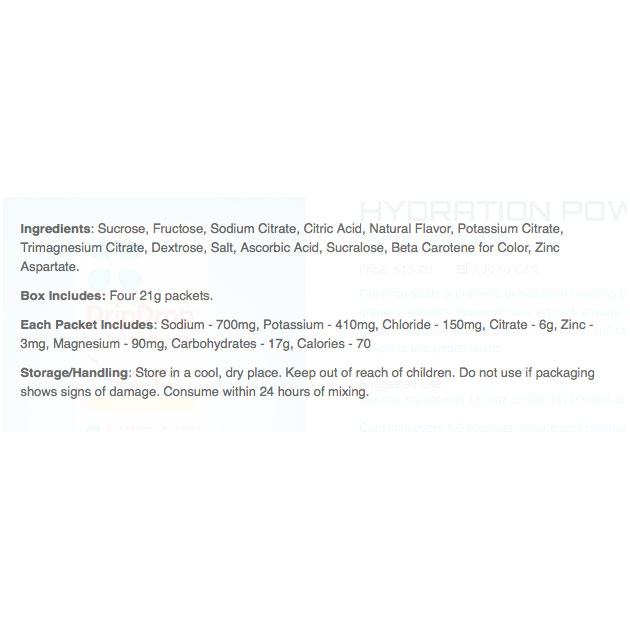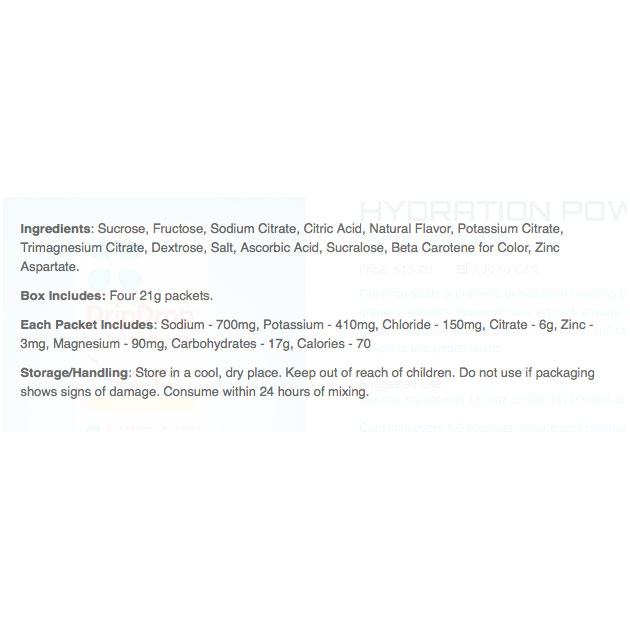 DRIPDROP Hydration Powder - Lemon
Box Includes:
Four 21g packets
Description:
DripDrop treats & prevents dehydration resulting from vomiting, diarrhea & excessive sweating. This product is great for athletes, those who are active & anyone looking to hydrate their bodies more effeciently. With its highly concentrated formula, DripDrop is patented and clinically shown to better hydrate. It's also used by leading hospitals and pediatricians.
Suggested Use:
Mix one packet with 16.9 oz or 500 ml (1/2 liter) of water to make one serving. Stir until fully dissolved. Consume every 1-2 hours as needed until rehydrated. Adults: consume up to 8 servings per day. Children: consume up to 4 servings per day.
Additional Info:
Drip Drop was developed by a Mayo Clinic trained physician to save lives in the most challenging circumstances. The great-tasting formula delivers 2-3 times the electrolytes of sports drinks and 25% more than pediatric alternatives. Drip Drop is also an ORS - Oral Rehydration Solution. An Oral Rehydration Solution is a proven ratio of sodium, sugars and water, precisely formulated to quickly replace fluid and electrolytes. Low osmolarity and more sodium are the marks of medical grade hydration.