SUSTAIN D-Ribose Plus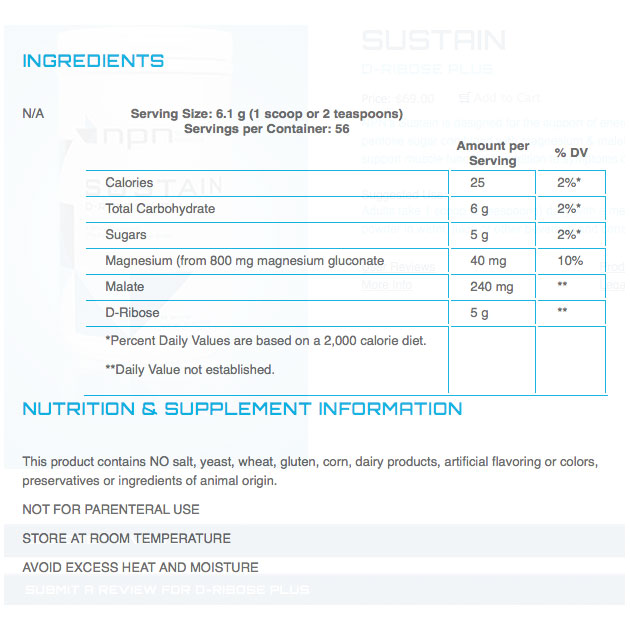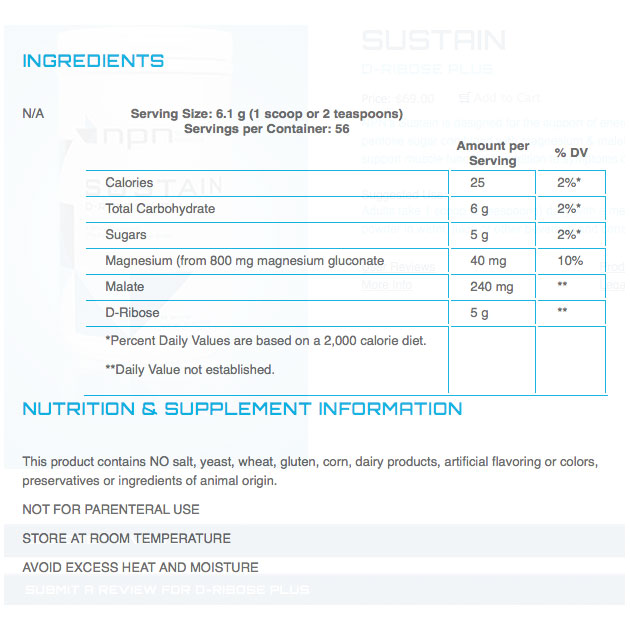 SUSTAIN D-Ribose Plus
Description:
NPN's Sustain is designed for the support of energy production, fatigue & mitochondrial function. This natural pentose sugar combined with magnesium & malate create a formula that helps in the utilization of energy & support muscle function in addition to symptoms of fatigue.
Suggested Use:
Adults take 1 scoop (2 teaspoons) daily with a meal or as directed by your healthcare professional. Dissolve powder in water, juice or other beverage and consume.
Additional Info:
Sustain contains pure D-Ribose which is a safe & clinically researched ingredient that assists the way our bodies produce adenosine triphosphate (ATP) naturally, the energy currency of the cell. Ribose is the crucial structural root of critical cellular compounds called purines and pyrimidines. In order to form major cellular constituents such as our DNA, specific vitamins & ATP (adenosine triphosphate), our bodies must have an adequate supply of purines & pyrimidines. Ribose is the starting point for the synthesis of these fundamental cellular compounds, and the availability of ribose determines the rate at which they can be made by our cells and tissues. D-ribose is a structural component of DNA, RNA, ATP, GTP, flavins (FAD, riboflavin) and other important nucleotides found in all living cells.